HURRICANE HARVEY WIDESPREAD DEVASTION IN TEXAS
Over the past several years, meteorologists in South Texas (and other areas) have stated "it's not a matter of if but when" a major hurricane would strike the Middle Texas Coast. The last hurricane to do so was Celia back on August 3rd, 1970. Well, the "when" happened on August 25th 2017, when Harvey made landfall along the Middle Texas Coast. Harvey exploded rapidly from a tropical depression to a major hurricane in around 40 hours. After impacting the Yucatan Peninsula earlier in the month as a tropical storm, Harvey moved into the warm waters of the Gulf of Mexico late on Tuesday August 22nd.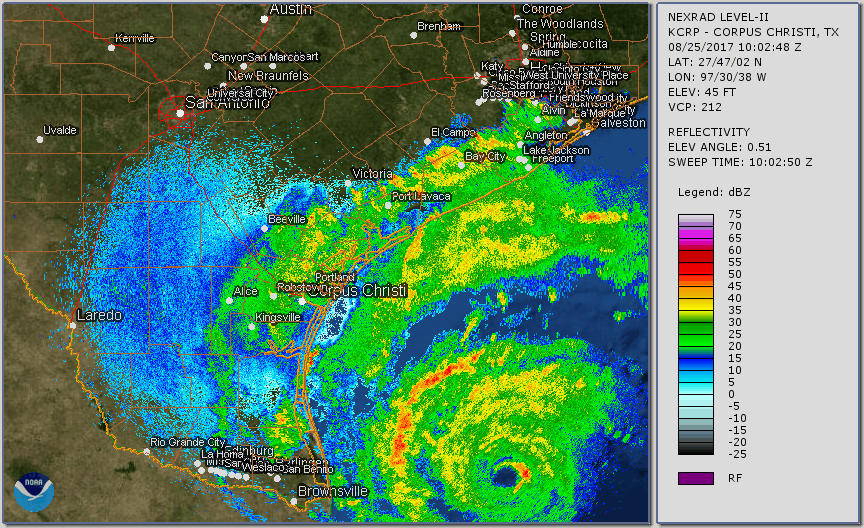 KCRP Radar Loop – 500 AM CDT August 25 through 912 AM CDT August 26, 2017
The birth of Harvey occurred on Sunday August 13th, 2017 as a tropical wave emerged off the west coast of Africa, eventually merging with a broad area of low pressure near the Cabo Verde Islands. At first, it was thought the wave and the low pressure area would have a more west-northwest track, threatening the Lesser Antilles. However, this low stayed more on a westward course as it moved over the open Atlantic Ocean toward the Eastern Caribbean Sea. For a few days on its westward track, "Harvey" remained disorganized, and there was some uncertainty whether the low would become a tropical cyclone. However, by Thursday August 17th, the National Hurricane Center began issuing advisories and forecasts on Tropical Cyclone Nine Thursday morning, and Tropical Storm Harvey Thursday afternoon. Tropical Storm Warnings were issued that afternoon for Martinique, St. Lucia, Barbados, and St. Vincent and the Grenadines. Tropical Storm Harvey impacted the Windward Islands on Friday, August 18th, entering the Eastern Caribbean Sea as a minimal tropical storm, and eventually weakening to a tropical wave late Saturday evening. Although there was some potential for the remnants of Harvey to reorganize into a tropical cyclone, a tropical cyclone failed to form as the remnants of Harvey moved into the Yucatan Peninsula on Tuesday morning, August 22nd.
The genesis of Harvey from a Depression to a Major Hurricane: 542 PM CDT 08/23/17 to 657 PM CDT 08/26/17 (GOES-16 data is non-operational.)
With very warm waters in the Bay of Campeche and the Western Gulf of Mexico, the National Hurricane Center (NHC) was fairly confident that the remnants of Harvey would reform into a tropical cyclone. At 10 AM CDT Wednesday August 23rd, Tropical Depression Harvey reformed. Initially, NHC believed Harvey would become either a strong tropical storm or a Category 1 hurricane before making landfall somewhere between Brownsville (early Friday morning) and Houston (early Saturday morning), with the most likely location near the Rockport area late Friday night . However, with wind shear in the Western Gulf of Mexico weakening, Tropical Storm Harvey was intensifying quickly. By Wednesday evening, Harvey was forecast to make landfall as a hurricane somewhere over the Texas Coast.
On Thursday August 24th, Harvey's impact on the Middle and Upper Texas Coast seemed almost certain and potentially devastating. Not only was Harvey forecast to become a hurricane by Thursday evening, but it was expected to strengthen and make landfall as a major hurricane (Category 3 or higher) on Friday (see forecast). Worse yet, once the storm moved inland, it was forecast to eventually stall and meander over South or Southeast Texas for days. Thus, Major hurricane Harvey was not only forecast to produce devastating winds, but extremely heavy and excessive rainfall, producing devastating and historic flooding over areas especially east of the center of circulation (still most likely just north of Copano Bay).
Harvey underwent rapid intensification and quickly became a Category 3 hurricane on Friday at 2 PM (120 mph sustained winds) and then a Category 4 hurricane (130 mph sustained winds) early Friday evening. As Harvey slowly approached the coast, the National Weather Service in Corpus Christi issued a rare Extreme Wind Warning. Extreme wind warnings are issued for landfalling major hurricanes with winds of 115 mph or higher. Harvey was forecast to have winds in the eyewall between 115 and 130 mph! Three extreme wind warnings were ultimately issued for Harvey. The eye of Major Hurricane Harvey first made landfall on San Jose Island and then near the Rockport and Fulton, Texas area at around 10 PM CDT.
Many observing stations in South Texas with equipment measuring wind speeds were disabled before they could record the highest wind speeds. Thus, some of the observed wind speeds tallied over South Texas may be underestimated, especially over areas near the coast and close to the eyewall of Harvey. Still, a peak wind gust of 132 mph was reported 2 miles ENE of Port Aransas (the highest observed wind gusts as of this writing). Copano Village reported a peak wind gust of 125 mph.
Although the eye of Harvey made landfall around 30 miles northeast of the city of Corpus Christi, strong and damaging wind gusts were experienced away from the center of circulation at the Corpus Christi International Airport and in the city as well as other locations. The Corpus Christi International Airport had a 63 mph gust before it went offline. The Victoria RAWS station had a peak gust of 83 mph. Much higher wind gusts did occur in the city of Corpus Christi, as the Doppler radar showed velocities of 70 mph or more, just a few hundred feet off the surface.
Rockport and Fulton were hardest by the storm as they took a direct hit from Harvey's eyewall. Many structures, residences, and business in and near the Rockport and Fulton area were damaged or destroyed, as roofs were blown off and walls collapsed. Electricity and water services were lost. The city's infrastructure was crippled. Significant structural damage also occurred in numerous other coastal town including Port Lavaca, Copano Village, Aransas Pass, Port Aransas and Ingleside. You can see more damage photos in the Photos section. Tens of thousands of South Texas residents and businesses lost power for days, with the hardest hit areas likely losing power for several weeks. Although there was a significant number of trees, fences and power poles down or damaged in the Corpus Christi Metropolitan area, structural damage was much more isolated.
The storm surge from Harvey brought dramatically increased water and tide levels over the Texas Coast. The highest maximum storm tides were observed at the Aransas Wildlife Refuge, where the storm surge levels were more than 12 feet above ground level. Storm surge in Port Lavaca was also more than 10 feet and at least 6 feet in Port Aransas. Elsewhere across South Texas, storm tide levels were from near 3 to 6 feet above ground level at Seadrift, Port O'Connor, Holiday Beach, Copano Bay, Port Aransas, and Bob Hall Pier.
Besides wind and storm surge, hurricanes and tropical storms are notorious for producing torrential rainfall and flash flooding. Unfortunately, Harvey was unique. Instead of moving inland and farther away from the coast, Harvey stalled over South and Southeast Texas for days, producing catastrophic devastating and deadly flash and river flooding. Southeast Texas beared the brunt of the heavy rainfall, with some areas receiving more than 40 inches of rain in less than 48 hours! Cedar Bayou in Houston received a storm total of 51.88 inches of rainfall which is a new North American record. However, South Texas residents were not spared from this impact from Harvey, as heavy rainfall and flash flooding were observed over the eastern portions of the area. Several flash flood warnings were issued during the evening and overnight hours of August 25th and 26th, as torrential tropical rains impacted the coastal counties of the Coastal Bend, as well as the Victoria Crossroads region. 24-hour rainfall amounts ending at 7 AM Saturday August 26th indicated that widespread 10 to 15 inch rainfall amounts (with isolated +15 inch amounts) had fallen over portions of San Patricio, Refugio, and Aransas Counties. Most of the eastern half of South Texas received 3 or more inches of rainfall, with much lower amounts farther west. As Harvey drifted farther north, the heavier rainfall shifted with it, with 24 hour rainfall amounts ending on Sunday August 27th of 3 or more inches over much of Victoria County and portions of Calhoun and Aransas Counties. The heavy rainfall shifted northeast into Southeast Texas on Monday. By then, 15 to 25 inch storm total (72-hour) rainfall amounts were observed over much of Aransas and Refugio Counties, as well as portions of San Patricio and Victoria Counties. Rainfall totals for Harvey decreased dramatically farther south and west, with portions of Webb County receiving no rainfall at all!
All of this excessive precipitation resulted in major river flooding over the Guadalupe River and the Garcitas and Coleto Creeks. Near major flooding was observed on the Copano Creek near Refugio, with moderate flooding on the Mission River (See the Hydrology Section for the pertinent hydrographs). Other rivers and creeks over the eastern half of South Texas saw rises, but most did not exceed flood stage. As of this writing, the Guadalupe River at Victoria is expected to crest around 31.4 feet, while Bloomington is expected to crest around 30 feet. If these verify, these will be the second highest crests at these two gauges since records have been kept, with the record stage at Victoria occurring on October 20th 1998 (34.04 feet), and 34.00 feet at Bloomington on October 21st 1998.
After causing deadly and damaging winds and floods to South Texas, and catastrophic, historical, devastating, and life-threatening flooding over Southeast Texas, Harvey finally made its final landfall near Cameron, Louisiana during the overnight hours on Wednesday August 30th. More heavy rainfall and flooding occurred over the Northern Gulf States on its final landfall. South Texas residents who experienced Harvey will long remember the storm and, unfortunately many other residents will take a long time to recover from this historic and unusual tropical system.